20,000th EasyStart™ Sold with 10,000 sold in Micro-Air's Online Store; New RV Thermostat Coming Soon!
Allentown, New Jersey, September 18, 2019 - Micro-Air, LLC today announced its 10,000th factory direct sale via its webstore of the EasyStart ™ 364 soft starter for air conditioning. The landmark purchase was made by Chesapeake Bay's Robert Sadler of North Beach, Maryland, who also received a free EasyStart. Added to sales made via other channels before the factory direct webstore existed, Micro-Air now has over 20,000 EasyStarts in the field.



The Company enjoys universal appreciation for its electronic, "made in the USA" soft start for RV, Marine and Home/Commercial air conditioning starts. The EasyStart 364 was the winner of the RV Industry's 2019 RVIA Finalist spot for the RVIA RISE AWARD.
To mark the milestone, the Company launched its Facebook Giveaway offering to the public a chance to win a free EasyStart. A winner will be selected at random from all of its LIKES on Friday, October 25, 2019 and later announced on Facebook.
Micro-Air's soft starters reduce by 60-75% the power inrush needed to start A/C compressor motors in homes, boats and RVs. The units assist or permit starts in all types of A/C compressors, including those used in the marine and residential and commercial building contexts, where many edifices can benefit. Starting A/C on low power is often a big problem on boats and in an RV, and especially at home when utility power is not available. EasyStarts tackle and solve that problem.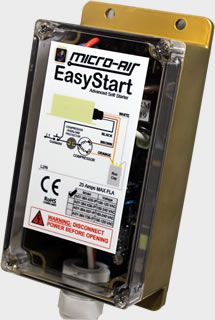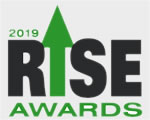 The golden unit winner, Mr. Sadler, is the owner of the 46 foot Hunter sailboat named Bug Out Boat, with two 16,000 BTU Cruisair chillers to cool his vessel. The EasyStart can be used on all manner of chillers and air conditioners in boats and was developed first for use in the marine industry. Located in Herrington Harbor, the winner is installing his EasyStart in late September to enjoy it before daily temperatures require winterizing. EasyStart also works on the heat function of air conditioners/heat pumps.
Sadler received not only a complimentary EasyStart 364 and bragging rights to his good fortune, but also, a golden painted unit to memorialize the occasion. Micro-Air sent an identical golden EasyStart to the archivist at the RV Hall of Fame in Elkhart, Indiana for inclusion in its collection. https://www.facebook.com/pages/RVMH-Hall-of-Fame/144139612455233
The EasyStart is installed as an aftermarket product on air conditioning. It is the unanimous choice as the electronic soft starter for boat and RV air conditioners. It permits starts of a rooftop A/C unit on low power sources and is universally accepted and loved in both industries. It even allows for the starting of two A/C RV rooftop units on 30-amp power.
Micro-Air is a 30-year veteran in temperature controls manufacturing. Its President Andy Spaziani said, "The EasyStart is tried and true, and with this 10,000th retail unit combined with the others sold before the webstore came into existence, we now exceed the benchmark of having over 20,000 of our electronic soft starters in the field keeping customers comfortable." Customer response in web research proves universally positive.
Micro-Air is also proud to announce a new entry into the RV thermostat market coming in 2020. This new color touch screen thermostat provides a simple touch driven experience that can also be controlled from your phone or tablet. Offering Bluetooth and WiFi access, these thermostats are plug-in compatible with digital Dometic™ and most of the available Coleman™/Airxcel™ systems. With WiFi access, you can now set and check your RV from anywhere. Director of eCommerce Marc Gerardi said, "Imagine being able to cool your RV from your car, office, home or restaurant dinner table, rather than returning to a stuffy (or cold) rig. It's gonna be sweet!" A release date has not been announced as of this writing.
About the EasyStart™ 364
Micro-Air's EasyStart™ is an electronic soft starter that permits the starting of RV rooftop air conditioning on low power sources such as small solar inverters, conventional generators as small as 2000 watts, and on 30-amp shore power. The EasyStart™ enjoys unparalleled customer support. It boasts of its exceptional ability to be used on solar inverters and its one-of-a-kind waterproof case.
About Micro-Air
Micro-Air designs and manufactures total control systems for applications in the RV and marine industries. If you've been aboard a pleasure boat from 25 – 200 feet, chances are the air condiitoning system was controlled by Micro-Air. From the time of its infancy as a garage operation in 1983 to the current manufacturing plant in Allentown, New Jersey, the Company has been a design innovator and maintains an unparalleled institutional knowledge of the recreational air conditioning industry. Micro-Air treats its customers and employees like family and prides itself on customer service.
###