New Product Announcement: Micro-Air's EasyTouch RV Thermostat Modernizes The Camper Wall Control
Allentown, New Jersey, January 1, 2020 -Talk about Cool! Micro-Air, LLC is the award winning high tech manufacturer of the EasyStart family of air conditioning products for home, marine and RV use. Today it announced the impending arrival of its newest product for the RV: EasyTouch RV, a smart thermostat, and the smartphone app to control it that works with single and multi-zone units. EasyTouch is its WiFi-enabled and Bluetooth-capable wall control thermostat for RV air conditioning. With the device, RVers can monitor and control cabin temperatures from anywhere that WiFi or cell service are available. The wall thermostat will complement its EasyStart 364 for RV, the electronic soft starter for low power A/C starts. The free app for Smartphone and other devices makes it the one-of-a-kind game changer in coach comfort control. Even boondockers leaving behind a cell hotspot will enjoy remote WiFi control.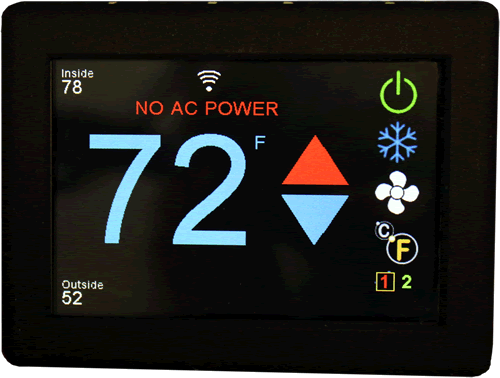 The Company's new contemporizing product is expected to dominate the aftermarket installation of modern thermostats in travel trailers, campers and luxury RVs. "It has no competitor in the market," said the Company's engineer Robert Schmidinger. "It will be compatible with Dometic™ and Coleman/AirXcel™ rooftop A/C units and both the iPhone/Apple and Android platforms for remote control." In the near future the product will be adapted to work with most of the remaining rooftop A/C brands. EasyTouch Marine is the predecessor to the new product. Its years of experience in the field speak to the quality of manufacturing standing behind the new RV model.
The Company's new color, touch screen thermostat provides a simple touch driven experience that can also be controlled from your laptop, phone or tablet. With WiFi access, the user can now set and check the air conditioning and power status in an RV from anywhere. Director of eCommerce Marc Gerardi said, "Imagine being able to cool your RV from your car, office, home or restaurant dinner table, rather than returning to a stuffy (or cold) rig."
Engineer Roger Krinic followed, "No longer will the EasyStart be our stand-alone RV product. It will buddy-up with the new EasyTouch RV." The release date is not yet announced but is expected to be available for the Spring camping season. Sales will be made via the Company website and by Dealers. Krinic added, "Although the software is entirely platform agnostic, the hard wired wall control will need to match the type of A/C on top of the rig. That's simple though: Dometic™ unit = Dometic-compatible control, Coleman™ unit = Coleman-compatible control." Installation will be a snap with a telephone jack-style for the Dometic units and an equally simple install for Colemans.
Micro-Air is unrivaled in the RV and Marine A/C controls business. Its EasyStart was RV industry honored when selected as the RVIA 2019 Finalist for Aftermarket Product of the Year. That's the RVIA's award for Innovation and Customer Service given in 2019 in Salt Lake City. "We are proud of our capacity to design, alter, test and manufacture quality electronic products," said Company President Andy Spaziani. "We've done it for over 35 years in both the marine and RV industries. The EasyTouch wall control/thermostat will be the game changer which RVers asked us for."
The EasyTouch RV thermostat's features include:
| | |
| --- | --- |
| | |
| | |
| People and pet protective | |
| | |
| Displays both set and ambient temperatures | Adjustable temperature deference or differential |
| Alerts to changes in temps/power outages | Accurate temperature sensors – that work! |
| Check/Change settings by Smartphone or other device | Runs fan F/T, both with and without A/C |
| Designed to give real value to RVers | |
It has other features too. Some RV owners worry about medical devices and the charge needed for a full night, for example using a CPAP machine. With the EasyTouch RV control and app, users know whether A/C power (therefore ALL rig power) is interrupted and if help is needed. Also, there are those concerned that their pets left in the A/C might experience generator or utility power loss and resulting radical changes in trailer temperatures. EasyTouch RV's app with instant notification eliminates the worry. It relays to the user's smartphone any danger or change and allows cooling adjustment remotely. That eliminates the need to interrupt a hike or day trip to rescue a pet. Add a hotspot to your rig or just leave one of your phones behind in the camper to serve as one and you can control the A/C from some of the most remote places on earth.
In the Marine industry, the Bluetooth feature was mostly unnecessary in yachts which carry their own routers. The new feature for RV permits A/C control for boondockers within range of a campsite (or from bed!), along with the other features tested for years on board vessels served by the tried-and true Marine version. With its WiFi component, the RVer can control the cabin from anywhere.
Paraphrasing Humphrey Bogart's (Rick's) final line spoken to his buddy, Moroccan Police Captain Louis Renault in the movie 'Casablanca', Micro-Air says that it can just about hear the EasyStart saying: "EasyTouch, I think this is the beginning of a beautiful friendship."
Micro-Air's air conditoning circuit boards and thermostats have been "cool" since 1983.
Register Here
for real time product release information as it becomes available. For more information visit:
About the EasyStart™ 364
Micro-Air's EasyStart™ is an electronic soft starter that permits the starting of RV rooftop air conditioning on low power sources such as small solar inverters, conventional generators as small as 2000 watts, and on 30-amp shore power. The EasyStart™ enjoys unparalleled customer support. It boasts of its exceptional ability to be used on solar inverters and its one-of-a-kind waterproof case.
About Micro-Air
Micro-Air designs and manufactures total control systems for applications in the RV and marine industries. If you've been aboard a pleasure boat from 25 – 200 feet, chances are the air condiitoning system was controlled by Micro-Air. From the time of its infancy as a garage operation in 1983 to the current manufacturing plant in Allentown, New Jersey, the Company has been a design innovator and maintains an unparalleled institutional knowledge of the recreational air conditioning industry. Micro-Air treats its customers and employees like family and prides itself on customer service.
###